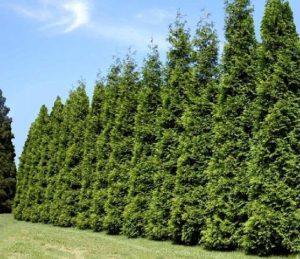 If you've been thinking about purchasing some Privacy Trees in Brentwood and aren't sure where to turn, American Wholesale Nurseries will guide you through the process in such a way that you'll be beyond delighted with the results!
With decades of experience, we're the experts who can go over everything with you from start to finish! We'll explain which options are and aren't ideal for your particular property so that you can confidently choose your selection(s) with complete peace of mind!
Privacy Trees Installation Near Brentwood
At American Wholesale Nurseries, we understand that it's important for you and your loved ones to have the freedom to fully enjoy the property on which their home resides! While you may desire some privacy, that doesn't necessarily mean you want to have a fence installed to acquire this goal. The good news is you don't have to sacrifice aesthetics for utility!
While fences are fine, there's nothing like having true nature around you to add beauty while knowing that there's no need to worry about the peering eyes of neighbors or others as they're driving by! Our Privacy Trees in Brentwood will add magnificence and serenity to your home that you'll truly appreciate!
By adding some Privacy Trees to your property, it's almost as if there's another room that's a part of your residence, particularly during the warmer months of the year, because it's somewhere your family can comfortably spend time without having to feel like the whole world can see their every move!
Another benefit that comes with making such a wise purchase is that spending 10 minutes or more outside each day, even during the winter, increases your level of vitamin D and helps to combat feelings of depression! Furthermore, this type of outdoor decor will definitely increase your home's equity, as well!
Residential Privacy Trees Installation In Brentwood
In addition to privacy trees, American Wholesale Nurseries offers many other property services including general landscaping, along with the additions of items like flowering shrubs, deciduous trees, annuals, native plants, ground cover, bulbs, evergreen shrubs, ground cover, and many more! Adding such items will make your home one that stands out from the rest, and just imagine how impressed your friends, family, and neighbors will be! The possibilities are as endless as the stars in the sky!
If you feel like you might like some assistance or guidance from someone with a natural talent for this type of project, we have property designers with tons of amazing and creative ideas!
Professional Landscaping Service in Brentwood For Privacy Trees
To find out more about how American Wholesale Nurseries can give you Privacy Trees in Brentwood that will make your yard the place to be, you're welcome to either give us a call at (631)673-2800 and speak with one of our well-informed and polite associates, or come by and visit! We'd love for you to look around and see for yourself all that we have to offer up close and in person!
This would also be a great time for you to discuss your Privacy Trees in Brentwood vision with us and even set up an appointment for us to come to your home for an in-person consultation! We look forward to helping you!
Contact Us
American Wholesale Nurseries

565 N. Service Road
Dix Hills, NY 11746
For your convenience, fax your orders, inquiries, or quote requests to (631) 673-2861.
Business Hours
January-March
Monday-Friday: 8am-3pm
Closed Saturday and Sunday
April-June
Monday-Friday: 7am-5pm
Saturday: 7am-3pm
Closed Sunday
July-November
Monday-Friday: 7am-4pm
Saturday: 7am – 12pm
Closed Sunday
(Extended hours Thanksgiving weekend open Saturday and Sunday 9am – 5pm)
December
Monday-Thursday: 7am-6pm
Friday-Saturday: 7am-8pm
Sunday: 9am-6pm