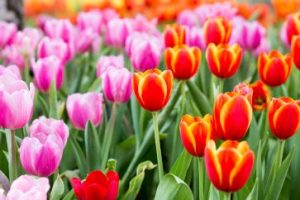 When searching for an exceptional Nursery in Smithtown for your property and landscaping needs, American Wholesale Nurseries is the one you should check out first!
We have an incredible variety of greenery and other outdoor decor items that will make you smile and impress your friends and neighbors alike!
Whether you're looking to complement your home's exterior with some lush shrubbery, flowers, and/or grasses, or if you're looking to purchase some privacy trees to enable your family and friends to feel more comfortable and protected from prying eyes at your next pool party or barbecue, we have it all!
Residential Nursery in Smithtown
American Wholesale Nurseries has been in business for over 30 years and has many repeat customers who have been utterly delighted with the items they've purchased; so much so that they've gone on to recommend us to their family, friends, and colleagues!
We're dedicated to making our customers happy to the degree that when they see their property upon returning home from errands, work, or elsewhere, they feel proud and find themselves really admiring where they reside! We're enthusiastic about bringing joy through the many types of beauty that nature has to offer!
We know all too well that our customers have plenty of options when it comes to locating a Nursery in Smithtown that can offer top-of-the-line items to purchase and appreciate for their homes. This is yet another reason why we go the extra mile to ensure that you're thrilled with your experience with American Wholesale Nurseries and want to return to us with whatever grass, flower, plant, bush, and tree needs you may have in the future!
We Are N
ursery Experts On All Plants Based In New York
We're here for you with a slew of associates who can answer any questions you have and provide you with whatever information you may need so that you feel very comfortable and confident with your purchase(s)!
In addition to terrific everyday greenery, we proudly carry a great amount of gorgeous holiday items including a huge selection of decorative trees, wreaths, white pine roping, tree stands, poinsettias, and lights, as well as other items!
Just imagine coming home after a long day and having the glorious fragrance of fresh pine, along with meaningful and festive eye candy that will bring you joy, as well those you love! While times are a bit rough lately, there's still plenty to celebrate and give thanks for, so it's that much more nurturing and beneficial to everyone when you let your home reflect that sentiment!
Expert Smithtown Nursery Professionals
If you'd like to know more about how American Wholesale Nurseries can supply the items necessary for your home to truly stand out and impress all those who have the opportunity to see it, please don't hesitate to give us a call at (631)673-2800 with any questions or concerns you may have!
Our Nursery in Smithtown representatives are warm, friendly, knowledgeable, and will give you whatever information you need! You're also welcome to come down to our convenient location and see the many selections we have up close and in person! Thank you so much for your consideration!
Contact Us
American Wholesale Nurseries

565 N. Service Road
Dix Hills, NY 11746
For your convenience, fax your orders, inquiries, or quote requests to (631) 673-2861.
Business Hours
January-March
Monday-Friday: 8am-3pm
Closed Saturday and Sunday
April-June
Monday-Friday: 7am-5pm
Saturday: 7am-3pm
Closed Sunday
July-November
Monday-Friday: 7am-4pm
Saturday: 7am – 12pm
Closed Sunday
(Extended hours Thanksgiving weekend open Saturday and Sunday 9am – 5pm)
December
Monday-Thursday: 7am-6pm
Friday-Saturday: 7am-8pm
Sunday: 9am-6pm