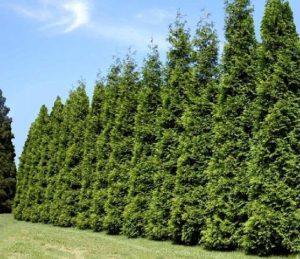 If you're considering different options for the purpose of getting some privacy for your yard or another part of your property, and the idea of a fence doesn't really appeal to you, Privacy Plants Bay Shore may be just what you're looking for! At American Wholesale Nurseries, we have more than a few choices that will not only look beautiful but will also lessen the decibel level of any sounds that may detract from your dwelling's outdoor experience, such as traffic! We have a wonderful selection of trees, shrubs, and plants that can provide your yard with an atmosphere like a secluded retreat!
We at American Wholesale Nurseries can set you up with Privacy Plants Bay Shore that will suit both your style and budget! Having a little seclusion makes any backyard time more enjoyable, and going with plants to create privacy is a gentler way to keep out the prying eyes of passers-by than a fence! Not only that, it also makes your garden space greener! You can go with either plants that are in the ground or those that are inside containers, making them moveable. This vegetation also can be trained to grow up or over a structure. You can choose from such options as fast-growing evergreens, as well as mixed plants with a picket fence, which can create an integrated privacy solution. You also might want to go with even ornamental grass or climbing vines. The possibilities are as endless as they are beautiful!
Bayshore Privacy Plants
When done correctly, Privacy Plants Bay Shore can surely add a calming solitude to your garden. This type of addition to your greenery can also deliver many ecological and aesthetic benefits, such as defining property lines, highlighting paths and walkways, directing attention to a garden or yard component, reducing noise and dust pollution, sequestering carbon, and enhancing architecture, among others! A good next step for the goal of achieving the very best results would be to think about plants that have dense foliage, moderate growth and size, are water wise, and are native to where you live. What's more, choosing the right plants for their horticulture and practical properties can also increase the value of your home!
Another attractive direction you can go in that will also provide privacy is hedges, as they can offer dense shade, which then brings you some cooler areas in the midst of a lot of sun exposure. It would probably be best to utilize those that suit your climate, garden conditions, and are low maintenance. As hedges are technically a living barrier that grow over time, this is an option that accommodates those who have tighter budgets; they just require some extra patience and time.
Please take some time to peruse our website, americanwholesalenurseries.com at your earliest convenience. Have questions? Then please go ahead and give American Wholesale Nurseries a call at (631)673-2800. It's our pleasure to assist you in any way that we can! We're here for you when it comes to your Privacy Plants Bay Shore needs!
Contact Us
American Wholesale Nurseries

565 N. Service Road
Dix Hills, NY 11746
For your convenience, fax your orders, inquiries, or quote requests to (631) 673-2861.
Business Hours
January-March
Monday-Friday: 8am-3pm
Closed Saturday and Sunday
April-June
Monday-Friday: 7am-5pm
Saturday: 7am-3pm
Closed Sunday
July-November
Monday-Friday: 7am-4pm
Saturday: 7am – 12pm
Closed Sunday
(Extended hours Thanksgiving weekend open Saturday and Sunday 9am – 5pm)
December
Monday-Thursday: 7am-6pm
Friday-Saturday: 7am-8pm
Sunday: 9am-6pm