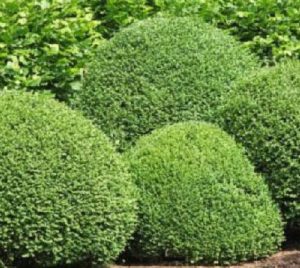 If you're in the market for lush, beautiful Evergreen Shrubs in Bay Shore, you should go straight to American Wholesale Nurseries, conveniently located near the LIE Exit 51 in Deer Park, just 30 minutes east of New York City and 40 minutes west of Riverhead! We have an incredible selection to choose from, and we sell to the public at exceptionally low prices! We've acquired many faithful customers throughout the years who use us as their source of locally grown plants, as well as gardening information and garden design inspiration!
Our Evergreen Shrubs in Bay Shore are a wise investment, just based on the fact alone that they give color to your landscape, regardless of the season, while other trees and shrubs are bare during the cold winter months. By carefully using these shrubs among a variety of deciduous plants, the pop of pigmentation they bring add character and depth to your property year round! We carry both narrow-leaf and broad-leaf varieties. The narrow-leaf kind have foliage that is quite needle-like, long, and somewhat scale-like on the stem. They typically don't develop flowers. Contrastingly, the broadleaf evergreen develops foliage that has some degree of width to its leaves and is more likely to be diverse in its flowering habits, with some of the flowers being quite small.
Best Selection of Plants and Trees on Long Island
American Wholesale Nurseries has the best selection of well-suited plants and trees for Long Island's sometimes unpredictable winter seasons, including specialty and hard-to-find species! We have exactly what you need to enhance your outdoor space whether it's close to the house itself, on the lawn in a specific area to add interest, or it's being used as a beautifying boundary for your property line! Another benefit of adding such shrubbery is that it can greatly increase your home's value over time!
In addition to gorgeous Evergreen Shrubs in Bay Shore, American Wholesale Nurseries carries such items as perennials, annuals, privacy trees, flowering shrubs, deciduous trees, grasses, native plants, ornamental shrubs, bulbs, and even ground cover items! We also carry decorative Christmas and holiday trees, wreaths, white pine roping, tree stands, poinsettias, lights, and more! Our team consists of those who are true experts in landscape design and love to assist our customers by offering them many artistic possibilities for their properties that demonstrate their own uniqueness and creativity! The possibilities are varied, fun, and will complement your home perfectly!
Contact Us
If you'd like to know more about how American Wholesale Nurseries can help with your Evergreen Shrubs in Bay Shore vision, why not get in touch with us today? Our phone number is (631) 673-2800, and our customer service specialists are ready to cheerfully assist you, answering questions and making suggestions, in addition to addressing any concerns you may have! We're excited to help you make your landscaping dreams a reality! Your neighbors will be very impressed and delighted when they see your beautifully manicured property, and you'll smile each time you drive up to your home and get to take in how great it looks! We look forward to working with you in the near future!
Contact Us
American Wholesale Nurseries

565 N. Service Road
Dix Hills, NY 11746
For your convenience, fax your orders, inquiries, or quote requests to (631) 673-2861.
Business Hours
January-March
Monday-Friday: 8am-3pm
Closed Saturday and Sunday
April-June
Monday-Friday: 7am-5pm
Saturday: 7am-3pm
Closed Sunday
July-November
Monday-Friday: 7am-4pm
Saturday: 7am – 12pm
Closed Sunday
(Extended hours Thanksgiving weekend open Saturday and Sunday 9am – 5pm)
December
Monday-Thursday: 7am-6pm
Friday-Saturday: 7am-8pm
Sunday: 9am-6pm